Want to see how Tenjin can empower your employees? Let's talk! Book a time that suits you
BOOK YOUR SLOT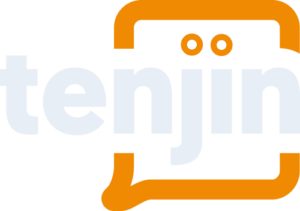 Tenjin
Enterprise
Tenjin Enterprise has been designed as a low code alternative to the mega vendor bot framework. By rapidly deploying Virtual Assistants, you can help users find information through self-service. Being able to readily access business information and making it easy to consume, brings benefits to employees, customers and to the business itself.
Build your Tenjin.

Support your team.
Provide vital information to staff and customers

Can come with multi-tenancy to maximise resources and cut costs

White-labelling helps to increase engagement and loyalty

Minimal adoption with a no/low code approach
Key challenges
Today's digital workplace spans buildings, cultures, demographics and now employees' homes

Attitudes and appetites for IT self-service vary greatly meaning that no single tactic is guaranteed to be successful

Enterprise IT must provide a 'pick and mix' approach for employees to access business information and services, letting them choose what works for them
A Millennial employee will likely want to handle everything through their phone, while a Boomer co-worker may prefer a web-portal interface.
Both are business consumers, seeking the same outcome but have different interpretations of what self-services means to them. Serving this broad spectrum can be a real challenge for Enterprise IT.
Successfully doing so has tangible cost reduction benefits. As Gartner Research shows, the average IT service desk cost per agent-handled contact is $15.11. Employee productivity gains that can only bring positives for all concerned.
Advance your Tenjin
Built to handle AI-driven natural-language processing interactions, Tenjin streamlines access to common business services like knowledge, resetting passwords and escalating support requests. Tenjin extends this usability to traditional web-portal experiences for more in-depth interactions, so every business consumer is supported.
Tenjin is built upon over 20 years of IT self-service heritage, across a multitude of user touchpoints and experiences so your employees will always have the power of your information in their hands.
Tenjin Enterprise provides consumer-like self-service within your digital workplace
NEXT GENERATION SERVICE CATALOGUE
Implement governance, standards and auditability to your service delivery

SERVE UP THE RIGHT CONTENT TO THE RIGHT AUDIENCE
Target specific persona/roles and deliver the right content to the right audience, across multiple access channels and touchpoints

INTEGRATE AND AUTOMATE
Integrate your ITSM, Cloud, and any other system, with ease and design powerful business process workflows to automate service delivery of business services
FEDERATE & AGGREGATE
Build modular, customer-orientated, bite-sized chunks of knowledge from multiple, disparate sources

BUILD FORMS THAT CAPTURE WHAT YOU NEED TO
Easily design forms for specific uses, capture the correct information and gain approvals

IMPROVE PRODUCTIVITY AND EFFICIENCY
Faster and easier access to IT services drives up productivity, improves efficiency and removes bottlenecks
Tenjin Advanced, an evolution of Front Office, is in a unique place to help you solve this challenge.
Engage your customers


and increase productivity today! Find Out More
Ask Tenjin
×
Welcome
See how Tenjin can improve the flow of information in your business